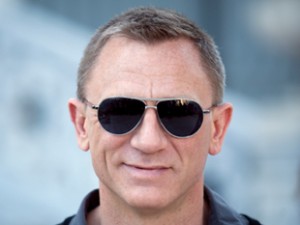 This week sees the release of the hugely successful James Bond Skyfall Movie on DVD and Blu-Ray, putting the excellent Tom Ford TF144 Marko sunglasses right in the spotlight once again. Skyfall became the highest grossing film of 2012, took over £20 billion in its opening weekend and became the highest grossing Bond film ever here in the UK.
There's no denying that the image of Bond himself plays a huge part in the success of the films, and the decision for Bond to wear the Tom Ford TF144 Marko sunglasses continued this success.
Speaking in a recent behind-the-scenes video, 'Skyfall' costume designer Jany Temime explained the thought-process behind the Bond look.
"James Bond is such an iconic figure that you have to respect a certain style – an English gentleman perfectly dressed up."

The gunmetal frame and blue lens of the Tom Ford Marko perfectly compliment any smart dressed individual, whilst at the same time are casual enough to be worn with everyday attire.

To mark the occasion, we are offering an excellent discount of £15 on the Tom Ford TF144 Marko sunglasses, this is a limited time offer, so be quick!