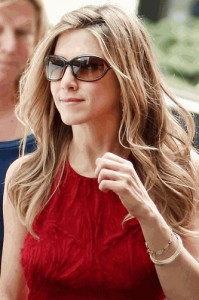 Celebrities help inspire and even change fashion trends, and what they wear in public is right under the media spotlight, so it's an important choice. It's a designer's dream to see their creations shown off by celebrities and Tom Ford's sunglasses are no stranger to this reality.
Celebrities love Tom Ford Sunglasses due to their unique style, and Tom Ford do a great job of setting them apart from their rivals by taking risks in new designs, that people could either love or hate, but, when it comes to Tom Ford designs, it's always the former.
Signature Styles
Frames with open ended lenses, such as the Jennifer, and Whitney, as worn by Denise Richards, and Miranda sunglasses, as seen worn by Angelina Jolie and and Jessica Alba, are one of Tom Ford's signature styles. Another Tom Ford signature, are the cat's eyes design and with many different Tom Ford models available supporting this look, it's seen worn by many a celebrity including model, Molly Sims.
Top Quality
Equally as important as style, is quality, and this is where Tom Ford sunglasses are right at the forefront. You can tell, designer's name aside, that they are a quality pair of sunglasses, and the statement that you're just paying for the name, couldn't be further from the truth. The metal detailing, the hinges, the lens quality are all excellent, and when it comes to protection, this is just as important to celebrities as anyone else, and their 100% UV blocking lenses guarantee this. The most important thing to remember here, is that quality sunglasses will last, and that's exactly what Tom Ford sunglasses do.
Good Enough for James Bond
We all know that James Bond always looks his best, and a pair of sunglasses is a necessary finishing touch to any of his outfits. Daniel Craig, in the latest Bond film, Skyfall, wore the Tom Ford Marko 18V sunglasses, and really looked the part. He's also been spotted wearing these same sunglasses off-set, proving this wasn't just some publicity deal struck in exchange for a huge wad of cash.
A Spin on a Timeless Classic
The classic aviator sunglasses will always be a popular style, they've stood the test of time and will continue to do so. Tom Ford has its own range of aviator style sunglasses that look great and are a slight spin on some of the original styles, the Marko being one. Others include the Mathias, William, Russell and Charles and are all favoured in the celebrity world.
Deep Pockets?
"How can I afford a pair of these Tom Ford sunglasses I'm hearing such good things about" I hear you cry. Well, Tom Ford sunglasses are one celebrity owned item that doesn't cost the earth. In fact, you can get yourself a pair of Tom Ford sunglasses for under £125, which is a small price to pay for a pair of sunglasses which provide 100% UV protection and will last you much longer than the cheap £20 (fake) pair you bought whilst on holiday last summer!
Head over to our Tom Ford sunglasses page now to see the entire range.