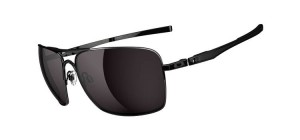 Following the success of their Plaintiff Aviator style sunglasses, Oakley have released the new Plaintiff Squared sunglasses, reminiscent of styles from the 50's but with a C-5 alloy frame that makes them extremely lightweight and very comfortable to wear.
The detailing on the Plaintiff Squared Sunglasses gives it a unique look, achieved by a shallow channel along the length of the earstems filled with a colour that compliments the frame.
The new Oakley Plaintiff Squared sunglasses comes in a range of colours and styles, and polarised options are also available here at Sunglasses-Direct for very competitive prices.