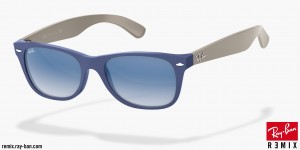 This week, Ray-Ban unleashed their most recent creation, Ray-Ban Remix. You can now customise the most popular Ray-Ban frames, including the RB3025 Aviator, RB2140 Wayfarer and RB2132 Wayfarer to your liking. From everything to the terminals to your own frame engraving, Ray-Ban have it covered. The new tool over on their website is very easy to use and makes it simple for anyone to create their own look, you can even choose your own case colour!
We think this is a really clever tool, which enables Ray-Ban to get accurate, real-time customer feedback on which colours and combinations are popular. The sales data they can gather from Ray-Ban Remix tool will likely help influence which colour combinations they'll put into mass production going forward and gives everyone a chance to put their ideas forward.
Head over to Ray-Ban's website now to have a play with the new Ray-Ban Remix creation, but if it's a bit out of your price range, took a look at our already popular selection of RB3025 Aviators, RB2140 Wayfarers and RB2132 Wayfarers.